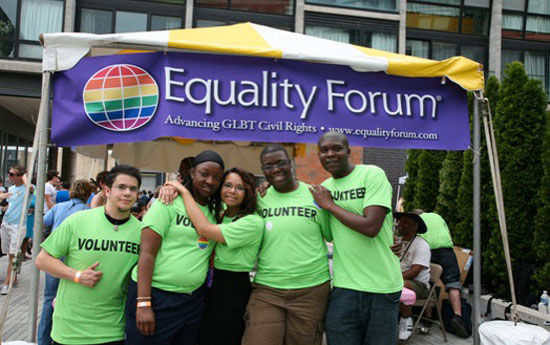 Call for Volunteers
Equality Forum 2014 (May 1-4)
Equality Forum 2014 is seeking volunteers for our annual event!

Volunteers are needed especially for SundayOUT! at The Piazza. Responsibilities include vendor registration, admissions, operations, event information, entertainment coordination, and more.

Prospective volunteers are required to attend an orientation. Orientation sessions will be held at Equality Forum, 1420 Locust Street, Suite 300, Philadelphia, PA, on the following dates:
Tuesday, April 22nd, from 5pm to 5:30pm
Thursday, April 24th, from 5pm to 5:30pm
Saturday, April 26th, from 12pm to 12:30pm
Saturday, April 26th, from 2pm to 2:30pm
To become a volunteer, please register for an orientation session here.
If you have any questions, please contact Julia at julia@equalityforum.com
Thanks for helping make Equality Forum 2014 a success!