Celebrate the 50th Anniversary of the LGBT Civil Rights Movement, July 2-5, 2015, in Philadelphia
Don't miss this historic four-day event!
IN 2015 WE PROUDLY COMMEMORATE THE 50TH ANNIVERSARY of the first organized civil rights demonstrations, the Gay Pioneers who staged them and the half century of progress we've made toward full LGBT equality. A celebration from July 2–5 is highlighted by the 50th Anniversary Ceremony on the Fourth of July with a who's who of LGBT icons and allies, speakers, choruses and entertainment in front of Independence Hall—the place where it all began. [more]
 
---
NOMINATE
LGBT History Month Icons
For more information about criteria for Icon selection, click here.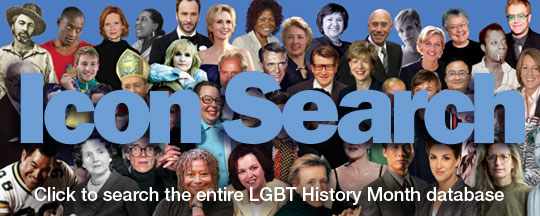 Search the entire LGBT History Month database of 279 Icons—from 2006 to 2014—by Icon name or by more than 150 tags, such as Academy Award, African-American, Author, Chicago, Composer, Germany, Lesbian, Politics and Transgender.