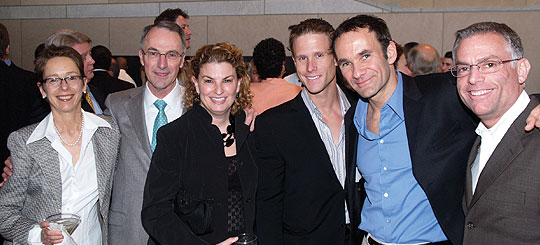 The Organization
OUR MISSION
Equality Forum is nonprofit 501(c)(3) organization with an educational focus.
It's mission is to advance the civil rights of lesbian, gay, bisexual, transgender (LGBT), queer, intersex, and other sexual and gender minorities, nationally and internationally.
Equality Forum coordinates LGBT History Month, oversees the application for and installation of government-approved LGBT historic markers, produces documentary films and undertakes other high-impact initiatives. Equality Forum runs these innovative programs in collaboration with learning institutions, professional associations, research centers, for-profit companies and nonprofit organizations.
Equality Forum Programs and Initiatives
LGBT History Month
Since 2006, Equality Forum has spearheaded LGBT History Month. Celebrated in October, LGBT History Month honors 31 LGBT Icons — one each day — with a video, bio, resources, downloadable images and other materials useful to students, website visitors and the media. All honored Icons are archived and can be searched by name or year or from a tag cloud of more than 240 descriptors.
Historic Markers
Equality Forum applies for and oversees the installation of government-approved LGBT historic markers. Each reflects an important person or seminal event in the LGBT civil rights movement. With the help of Equality Forum, Philadelphia has erected more government approved, nationally significant LGBT historic markers than any other city in the world.
Documentary Films & Theater
Equality Forum has produced three acclaimed documentaries and one theater production.
"JIM IN BOLD" – The leading film about the impact of homophobia on LGBTQ youth. 
"Gay Pioneers" – A 30-minute documentary that chronicles the start of the organized LGBT civil rights movement with "Annual Reminders" at Independence Hall each Fourth of July from 1965 to 1969.
"Saint of 9/11" – A feature-length film portrait of Father Mychal Judge, Chaplain of the New York Fire Department.
"217 Boxes of Dr. Henry Anonymous"  – An Off Broadway play about John Fryer, M.D., a gay psychiatrist who courageously challenged the designation of homosexuality as a mental illness at the 1972 convention of the American Psychiatric Association, thus transforming the LGBT civil rights movement. 
Annual LGBT Summit
In 1993 Malcolm Lazin founded PrideFest Philadelphia. Its first LGBT summit involved 15 regional organizations presenting panel discussions over a weekend. By 1996 what was now known as PrideFest America had become a week-long event, including 60 regional, state and national organizations. In 2003 the organization changed its name to Equality Forum.
At its peak, the annual Equality Forum event was the largest national and international LGBT summit, spotlighting a Featured Nation and including panel discussions, art exhibits, parties, programs and special events.
Other High-Impact Initiatives
Equality Forum continually creates high-impact initiatives designed to raise awareness of and address LGBT civil rights issues. These have included ...
Marriage Recognition
Equality Forum coordinated a federal lawsuit filed in September 2013 in Philadelphia on behalf of Cara Palladino and Isabelle Barker. The couple, who married legally in February 2005 in their home state of Massachusetts, were denied marital rights in Pennsylvania, where they relocated with their son in August 2008. The suit, Palladino v. Corbett, declared unconstitutional the Pennsylvania statute and similar statues banning recognition of same-sex marriages entered into legally in other states.
Project 1138
In 2004 Equality Forum launched a campaign to increase public awareness of the 1,138 federal marital rights and benefits denied to same-sex couples.
Fortune 500 Project
This collaborative project began in 2004, when only about 64% of the nation's largest corporations provided sexual orientation/gender identity workplace protections. The FORTUNE 500 Project contacted the top executives of all noncompliant companies to present a cogent business argument for adopting nondiscrimination policies.
Identifying the LGBT Vote
Equality Forum identified a way to measure the gay vote. The initiative, which can be used in any municipality or state with a significant gay population, confirms that gay voters can be identified and can be a voting bloc.