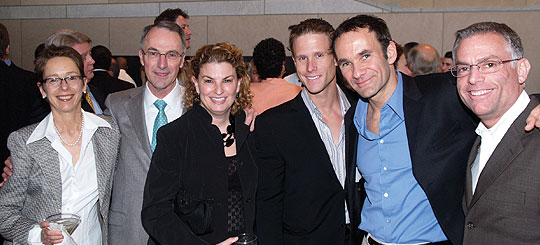 The Organization
OUR MISSION
Equality Forum is a nonprofit 501(c)(3) organization whose mission is to advance national and international lesbian, gay, bisexual and transgender (LGBT) civil rights with an educational focus.
Equality Forum coordinates LGBT History Month, produces documentary films, undertakes high-impact initiatives and presents the largest annual national and international LGBT civil rights summit.
Equality Forum produces these innovative events in collaboration with learning institutions, professional associations, research centers, for profit companies and nonprofit organizations. 
Equality Forum Programs and Initiatives
Annual Equality Forum
The weeklong Annual Equality Forum has an international focus, top-tier panel discussions, parties, an annual art exhibit, International Equality Dinner, Sunday OUT! and more. 
There is no registration fee and all substantive programs are free.
LGBT History Month
Since 2006, Equality Forum has spearheaded LGBT History Month (in October). LGBT History Month honors 31 LGBT Icons—one each day—with a video, bio, bibliography, downloadable images, and other downloadable educational resources including special features for students. www.lgbthistorymonth.com
Documentary Films
Equality Forum has produced three acclaimed documentaries.
"JIM IN BOLD" – The leading film about the impact of homophobia on GLBTQ youth. www.jiminbold.com
"Gay Pioneers" – A 30-minute documentary that chronicles the start of the organized GLBT civil rights movement with "Annual Reminders" at Independence Hall each Fourth of July from 1965 to 1969. www.gaypioneers.com
"Saint of 9/11" – A feature-length film portrait of Father Mychal Judge, Chaplain of the New York Fire Department. www.saintof9-11.com
Other High-Impact Initiatives
Equality Forum continually creates high-impact initiatives designed to raise awareness of, and to address, LGBT civil rights issues.
Marriage Recognition
Equality Forum is coordinating a federal lawsuit filed in September 2013 in Philadelphia on behalf of Cara Palladino and Isabelle Barker. The couple, who married legally in February 2005 in their home state of Massachusetts, are denied marital rights in Pennsylvania, where they relocated with their son in August 2008. The suit, Palladino v. Corbett, declares unconstitutional the Pennsylvania statute and similar statues banning recognition of same-sex marriages entered into legally in other states. [more}
Historical Marker
Equality Forum successfully petitioned for placement of the Gay Pioneers Historical Marker, across from Independence Hall and the Liberty Bell Center, that designates the site where the first organized annual gay and lesbian demonstrations took place.
"Project 1138"
In 2004, Equality Forum launched a campaign to increase public awareness of the 1,138 federal marital rights and benefits denied to same-sex couples.
Identifying the LGBT Vote
Equality Forum identified a way to measure the gay vote. The initiative, which can be used in any municipality or state with a significant gay population, confirms that gay voters can be identified and can be a voting bloc. [more].