Support Equality Forum!
Equality Forum is a nonprofit 501(c)(3) organization that exists through the generous support of its donors. Without you, our programs would not be possible.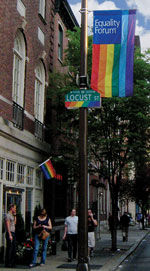 Help Equality Forum make a difference with your online donation:
Please include a mailing address so we may send you an acknowledgement letter.
Or, please make your check payable to Equality Forum and mail to:
Equality Forum
5780 Midnight Pass Road
B210
Sarasota FL 34242
Contributions are tax-deductible as permitted by law.
See a list of our donors.