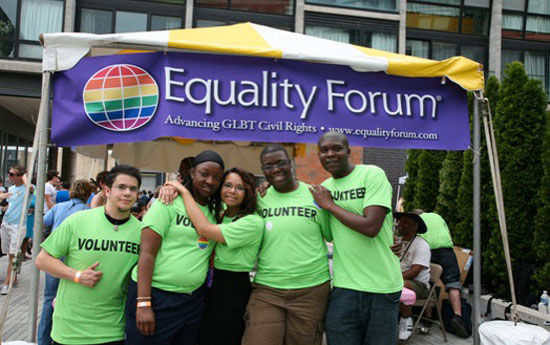 Call for Volunteers
Volunteer at Equality Forum 2013 (May 2nd - 5th)
Equality Forum 2013 is seeking volunteers to help out at our annual summit, May 2- 5, 2013. With over 30 programs scheduled, it's a great way to meet new people while participating in our annual summit.

Volunteers are needed throughout the week to help with panels, parties and the SundayOUT! street festival. Responsibilities include vendor registration, admissions, raffle sales, crowd control, event information and more.

Prospective volunteers are requested to attend an orientation. Orientation sessions will be held at Equality Forum, 1420 Locust Street, Suite 300, Philadelphia, PA, in April.
If you are interested in becoming a volunteer, please register by clicking here. We will contact you about orientation.
We hope you will help to make Equality Forum 2013 a success!
If you have any questions, please e-mail julia@equalityforum.com