Printer-friendly format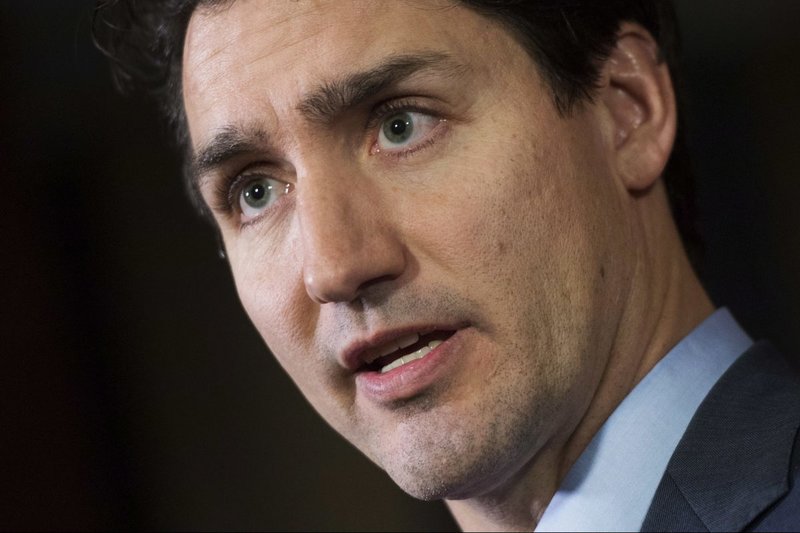 Prime Minister Justin Trudeau acknowledged what's known as the "gay purge," a policy targeting LGBT people in public service.
photo by Sean Kilpatrick / The Canadian Press
U.S. should emulate Trudeau apology for 'gay purge'
by Malcolm Lazin, For Philly.com
Canadian Prime Minister Justin Trudeau formally apologized on Nov. 28 for the harm caused by the "gay purge" to their federal government employees.
The purge was based on the theory that gays and lesbians were vulnerable to blackmail even though there was no documented case of a Canadian gay or lesbian blackmailed by the Soviet Union or any other country. From the late 1950s to 1992, tens of thousands of Canadian gay and lesbian federal employees were discharged or assigned menial jobs. After his apology, the government announced it will pay 110 million Canadian dollars, or $85 million, in reparations to compensate victims.
The Canadian gay purge was encouraged by U.S. intelligence agencies. In April 1953, one of Dwight Eisenhower's first acts was to sign Executive Order 10450, which prohibited the federal government from employing "sexual perverts" in any military or civilian job. The order comported with prevailing societal attitudes. Homosexual acts were criminalized. In 1952, homosexuality was listed as a sociopathic personality disturbance in the Diagnostic and Statistical Manual (DSM) of the American Psychiatric Association. Treatments included chemical castration, electric shock therapy, mental institutionalization, and lobotomies.
In the nation's capital, Police Lt. Roy Blick headed his department's Pervert Elimination Squad with four men assigned to detect and arrest homosexuals. In early 1950, Blick opined to a congressional committee that "There are 3,750 perverts employed by government agencies." The Office of Naval Intelligence reported that the number was 7,859. In response, the Senate set up a subcommittee. The New York Times reported "Pervert Inquiry Ordered."
The State Department, Civil Service Commission, intelligence agencies, and FBI collaborated in the purge. By November 1950, 500 federal employees in Washington and across the nation had been fired or forced to resign. By the mid-1950s tens of thousands of people lost their jobs, of which many had nothing to do with national security. The homosexual ban spilled over to defense and other federal government contractors. Private employers hired companies such as Fidelifacts to provide sexual orientation information on hires and current employees.
Gay rights pioneer Frank Kameny led the counterattack. In July 1975, 22 years after Eisenhower's executive order, the Civil Service Commission removed homosexuality as a bar to civilian federal government employment. Fifty-seven years later, President Barack Obama signed the repeal of Don't Ask, Don't Tell. In fall 2011, gays and lesbians were allowed to serve openly in the military. Between WWII and the repeal, it is estimated that more than 100,000 gays and lesbians were dishonorably discharged or forced to leave military service.
At the APA annual meeting in 1972, gay rights pioneers Frank Kameny and Barbara Gittings and psychiatrist John Fryer served on a homosexuality panel. Because he could lose his licensure if known as a homosexual, Fryer used the name Dr. H. Anonymous and hid his identity with a mask and voice modulator. Fryer's testimony was galvanizing. The APA promptly established a study committee. At the 1973 annual meeting, homosexuality was removed from the DSM.
Trudeau introduced legislation that would expunge "unjust convictions" of those charged criminalizing same-sex intimacy. Canada follows in the footsteps of the United Kingdom, which through its prime minister and queen, apologized, and expunged those convicted of homosexuality.
From the 1950s to the Don't Ask, Don't Tell repeal in 2011, well over 150,000 American gays and lesbians were fired or forced to leave federal government employment. Hopefully, the United States will follow England's and Canada's lead in addressing the effects of governmental homophobia with apologies, honorable discharges, and pardons.