Other Initiatives
Equality Forum continually creates high-impact initiatives designed to raise awareness of, and to address, GLBT civil rights issues.
Historic Marker
Equality Forum petitioned the Pennsylvania Historical and Museum Commission for the historic marker across from Independence Hall and the Liberty Bell Pavilion. The marker designates the site where the first organized annual gay and lesbian demonstrations took place each Fourth of July from 1965 to 1969.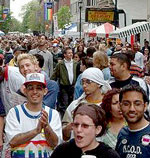 Project 1138
 This initiative increases public awareness of the 1,138 federal marital protections and benefits denied to same-sex couples. Equality Forum launched project 1138 in 2004 with a public demonstration, inviting couples to share their stories online. 
Identifying the GLBT Vote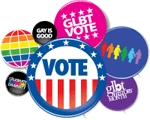 The 2007 Philadelphia mayoral primary had five well-known, gay-friendly candidates. Equality Forum identified eight unique gay neighborhoods and selected 12 U.S. census tracks with the highest number of same-sex households. By reviewing results in those precincts, Equality Forum was able to objectively conclude that about 70% of the vote went to one of the five candidates.   
This initiative, which can be used in any municipality or state with a significant gay population, confirmed that the gay vote can be identified and that the gay community can be considered a voting bloc.