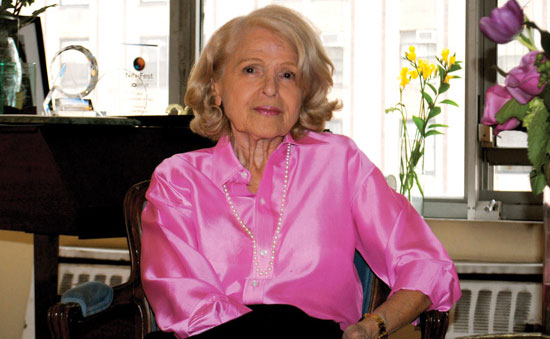 Edie Windsor Historic Marker
13th & Locust Streets (map)
Edie Windsor (1929-2017) was a civil rights icon, technology pioneer and feminist best remembered for her landmark Supreme Court marriage equality lawsuit.
In 1965 she began a relationship with Thea Spyer. They married in Canada in 2007. Their marriage was legally recognized in New York, where they resided. When Spyer died in 2009, the federal government denied Windsor benefits otherwise provided to a surviving spouse. She sued. In 2013 the Supreme Court held in United States v. Windsor that denying same-sex married couples equal federal benefits was unconstitutional. Her case was used by courts to overturn same-sex marriage prohibitions in 17 states including Pennsylvania and laid the groundwork for Obergefell v. Hodges in 2015, which legalized same-sex marriage nationwide.
Born and raised in Philadelphia, Windsor graduated from Temple University in 1950. She received a master's degree in mathematics from New York University and studied applied mathematics at Harvard University. She became a pioneer in computer architecture, operating systems and natural language processors. At a time when few women held corporate positions of power, Windsor was an IBM technology manager.
 
Additional Information:
Edie Windsor - LGBT History Month
ediewindsor.com - Official Website
Edie & Thea: A Very Long Engagement - (2009) Documentary, IMDb
Reveling in Her Supreme Court Moment - The New York Times