SundayOUT! at The Piazza
Sunday, May 6, 12:00 pm - 7:00 pm
The Piazza
North 2nd Street & Germantown Avenue
Philadelphia, PA
MAP
$10 Adults, $5 Students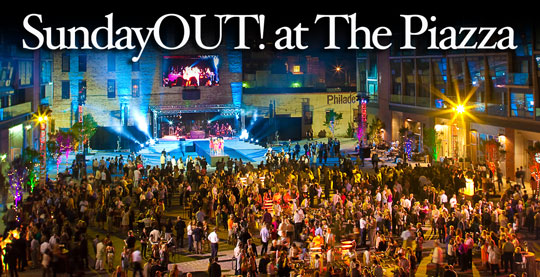 SundayOUT! takes place at Philadelphia's chic Italian-inspired open-air plaza in Northern Liberties with seven hours of Jumbotron and live entertainment, featuring singing sensation Neon Hitch. Israeli pop star Shorty, drag performer Osher Sabag, Israeli DJ's, and Fuego Dance Company.
SundayOUT! at The Piazza features over 150 artisans, food vendors and community organizations. The architecturally exciting Piazza offers something for everyone—stylish boutiques, cafés, bars, galleries and more!
FREE roundtrip shuttle every 10 minutes from Zipcar in the Gayborhood.

Sponsored by Greater Philadelphia Tourism Marketing Corporation.
Sponsored by WIRED 96.5.

For SundayOUT! Vendor inquiries, contact Tracy Buchholz at tracy@equalityforum.com.

Fuego Dance Company
Performers
Fuego Dance Company is Philadelphia's largest salsa dance studio.They have performed for Brenda K. Starr, Tyra Banks, and Patti LaBelle. Fuego won the Delaware Valley's "Entertainer of the Year" award at The Hispanic Choice Awards.
Click here to see Fuego Dance Company's YouTube video.
Maya Jakobson
DJ and Producer
Maya Jakobson is an owner and promoter of one of Israel's first and only all-mashup music events. She is internationally renowned and one of the most popular DJs in Tel Aviv's LGBT club scene.

Elad Magdasi
DJ and Producer
Elad Magdasi is a DJ and producer who spins at Tel Aviv's finest clubs and parties. In 2012, Magdasi, who has been producing original music since he was a teen, released "Black Panther," his first recording.

Neon Hitch
National Recording Artist
With soulful, jazz-inflected vocals and hip-hop beats, "Neon Hitch has all the elements of an A-list female pop queen," says the New York Post. Neon is featured on a Gym Class Heroes smash single "Ass Back Home", and is ready to release her YouTube sensational single "FU Betta" and her debut album this summer
Click Here to watch Neon Hitch performing on "The Voice."
Click here to watch Neon Hitch on YouTube.

Osher Sabag
Drag Perfromer
Osher Sabag is a popular drag figure in Tel Aviv gay nightlife. He is known for his live vocal shows, where he brings a different approach and style of drag. Sabag's unique appearance challenges the perceptions of gender-based looks and expectations.
Click here to see Osher on YouTube.

Shorty is an Israeli pop star and recording artist with two critically acclaimed albums and two major hit songs to her credit. She is the host of "My Blog" - a live daytime television show in Israel.

Click here to watch Shorty on YouTube.