John Fryer National 50th Anniversary Celebration
Monday, May 2, 2022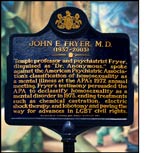 Tribute: At the John Fryer Historic Marker
13th and Locust Streets, Philadelphia, PA. Noon.
Participants: Include Mayor Jim Kenney of Philadelphia, Congressman Dwight Evans, and Saul Levin, Medical Director and CEO, APA.
VIP Reception: At the Historical Society of Pennsylvania (HSP) following the ceremony. The HSP houses the John Fryer archives and will feature a display including Fryer's handwritten notes for the 1972 APA Annual Meeting.
Free Online Film Screening: Join us on May 2nd at 7:30 pm ET for a special virtual screening of "CURED," an award-winning PBS documentary, followed by a panel discussion with the filmmakers. "CURED" takes viewers inside the campaign that led the APA to remove homosexuality from its manual of mental illnesses and spotlights Fryer's key role in this historic fight. Register HERE.
John Fryer Display at the Historical Society of Pennsylvania: Anonymous No More: John Fryer, Psychiatry, and the Fight for LGBT Equality covers four themes: Fryer the Person, Fryer the Professional, Fryer in front of the APA on May 2, 1972, and early LGBT activism in Philadelphia. FREE. Open Tuesday - Thursday, 10 am - 4 pm & Friday, 10 am - 2 pm.
Collaborating Organizations
Learn More
John Fryer Celebration Downloads for Press & Public
John Fryer Philadelphia Historic Marker
LGBT History Month
 "217 Boxes of Dr. Henry Anonymous" (Off Broadway Play)
Media